Discover the Benefits of clips on Sunglasses
January 16, 2018
Notice: Undefined variable: post in /var/www/html/student_orgs/student_organisations/wp-content/plugins/e-mailit/emailit_widget.php on line 422 Notice: Trying to get property of non-object in /var/www/html/student_orgs/student_organisations/wp-content/plugins/e-mailit/emailit_widget.php on line 422 Notice: Undefined variable: style in /var/www/html/student_orgs/student_organisations/wp-content/plugins/e-mailit/emailit_widget.php on line 441
Vast research shows that about 10% of students worldwide wear prescription/ corrective glasses. Prescription eyewear is a necessity to individuals with eye problems.   Besides enhancing clarity, they lead to dramatic vision improvement by facilitating the healing process in some eye problems. However, there are obvious limitations that are associated with corrective glasses.  For example, their use is a huge challenges for individuals who cannot perform their daily activities effectively without sunglasses. Since sunglasses are also associated with numerous benefits, eyewear companies invented clip-on sunglasses to help the users of corrective glasses. The move is a huge benefits particular to students because of lifestyle reasons.
Clip-on sunglasses are defined as eye protection devices that are clipped onto corrective eyewear.  Accordingly, they do not limit the use of prescription eyewear. Just like other forms of sunglasses, clip-on sunglasses are easy to acquire. They are readily available over-the-counter in most eyewear retail shop. The main factors that differentiate them from ordinary sunglasses is the user instructions, overall design and functionality.  The designs of clip-on sunglasses' lenses differ significantly to suit a wide range of individual styles.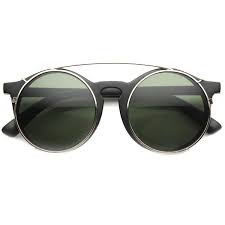 The primary benefit of clip-ons is to protect the eyes from excess sunlight. Both direct sunlight and ultraviolet rays are dangerous to the eyes. Over-exposing eyes to the sung can lead to diseases such as cataracts, macular degeneration and pterygium. All these diseases affect vision and they can worsen existing eye problems. UV rays are mainly linked to photokeratitis. They can also facilitate the development of eye cancer. Polarized clip on sunglasses block glare. Glare, which is also known as reflected light is extremely damaging to the eyes.  It also increases cases of accidents during night driving. Some clip-ons enhance clarity especially during outdoor activities such as driving, fishing, and cycling. Overall, clip-on sunglasses provide increased convenience. The fact that they are attached to the rim of protective eyewear means that users derive double benefits. Furthermore, they are quite affordable.
Comments
comments