THE MR. AND MISS. CHIROMO 2018/19 PAGEANT
The Organisation of Nairobi University Science Students (ONUSS) held the Mr. and Miss. Chiromo 2018 on Friday, August 3rd, 2018.
This is an annual event in Chiromo Campus and this year was conducted under the theme "Youth as key foundation of the society" to put youths at a center stage in addressing issues that touch on creativity and innovation, the position of youth in the society and other issues towards sustainable development goals.
The Organisation of Nairobi University Science Students (ONUSS) is a professional body tasked with promoting welfare of science students,ensuring development of academic and social life skills as well as inculcating a sense of responsibility to the society by moulding its students to attain intellectual excellence. In view of this, various student activities, as stipulated in our calendar of events, have been organised with the aim of  ensuring students' participation. This year's key event was the Mr. and Ms. chiromo pageant that was scheduled to occur at the MILLENIUM HALL 1 in Chiromo Campus. The slogan for the event," YOUTH AS KEY FOUNDATION OF THE SOCIETY" comes at a time when the societal structure has taken shape the places the youths in a very vital position. The youths are considered energetic and are so resourceful that the potential they wield could be tapped to achieve the most optimum of the desired result thus the key to every realistic achievement more so to the country's blueprint. This  in turn is analogous to a heathy economy since the future of the youth is pegged on their ability to utilize available resources to generate income for sustainance by venturing in entreprenuership and scientific innovation as well as exploiting their talents to rip maximum benefits. Winners  of this event will be designated as worthy ambassadors mandated to propell the good will message on responsible behaviour , as a recipe for education growth.
The event started at around 7:30pm with dances from the models and hype session choreographed by Bradley Kiptoo (Mr essence Uasin gishu county) and Sarah M. Nyatichi (Miss Chiromo Campus 2017/18) after which we had the run way presentations by the contestants and lastly the quiz section related to general modeling and the personal experience of the models in that field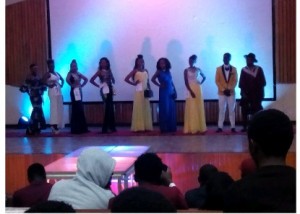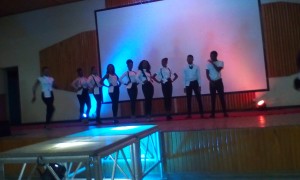 The contestants on stage.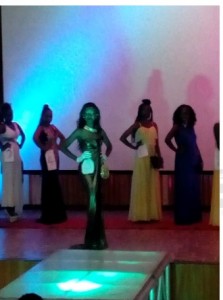 Vivian Manoti Moraa – The winner of Miss. UoN Chiromo Campus 2018/19 at the middle.